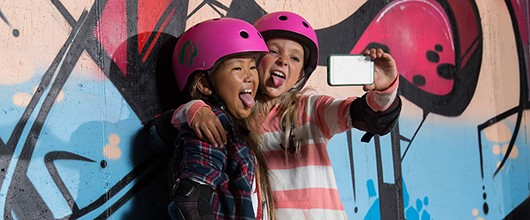 Already a member? Log in to renew.
When you unleash your inner G.I.R.L., you can accomplish anything!
At Girl Scouts, the next opportunity to stand up, speak up, and take the lead is never far away. With us, you'll discover the G.I.R.L. (Go-getter, Innovator, Risk-Taker, Leader)™ in you, and watch her shine, again and again.
Will you find a sustainable solution to a problem in your community? Will you explore the great outdoors? Build a robot? Learn to code? Conduct an experiment?
With us, the possibilities are truly endless. Discover all you can be and everything you can accomplish when you have the right tools and a safe space to shine—and work together to change the world. 
So what are you waiting for?
 
We are SO glad you are interested in joining Girl Scouts. You can start on the process by clicking the button below. Before paying for your membership, please note: Once a membership is purchased, we are not able to provide refunds, except in cases where the wrong membership year was selected, or a duplicate membership was purchased.

Already a member? Log in to renew.
Need to know more so you can decide what's right for you? Check out all the different ways to take the lead at Girl Scouts. Or, see all the exciting possibilities Girl Scouts offers for girls of all ages and choose your adventure.

Lifetime Membership
"Once a Girl Scout, always a Girl Scout." Lifetime membership is available to any individual who accepts the principles and beliefs of the Girl Scout Movement, pays the one-time lifetime membership cost, and is 18 years of age or older or is a high school graduate or the equivalent.

Lifetime membership dues are $375. Girl Scouts who are registered members when they graduate from high school can get a special lifetime membership at a reduced cost of $195 if they apply for lifetime membership before their current annual membership expires. (Register as a Lifetime Member by Sept. 1 after you graduate.) Check out more information.