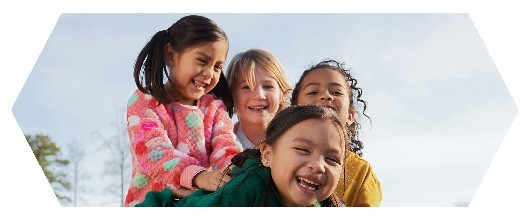 Join Girl Scouts
You're invited. Press play with us.
Making friends, testing her strengths, exploring new possibilities. It's all here for her.
Whether teaming up with others or learning to shine on their own, Girl Scouts have the tools and community support they need to succeed.
Press play with Girl Scouts. Where she can be herself and her confidence can soar.
She's ready to go.
Girl Scouts is a way of life that brings out the best in your girl, even in the most challenging of times. While she's learning about science, technology, engineering, and math (STEM); the outdoors; entrepreneurship; and important life skills, she's also discovering new ways to make your family and community stronger, kinder, and better for everyone. Plus? Girl Scouts is FUN!
Ready to Join?
Girl Scouts of Texas Oklahoma Plains is thrilled to welcome you and your girl! Membership dues are just $25 annually, but financial aid may be available. Whether you have questions about starting a new troop for your girl and her friends, joining an existing troop, or something else, send us a note at customercare@gs-top.org or call us at 800.582.7272. We're here for you!
And grownups? Whether you have kids, grandkids, or no kids of your own, you can have a front-row seat to the fun and community, too. Press play and volunteer with Girl Scouts. You've got what it takes to change girls' lives.

Lifetime Membership
"Once a Girl Scout, always a Girl Scout." Lifetime membership is available to any individual who accepts the principles and beliefs of the Girl Scout Movement, pays the one-time lifetime membership cost, and is 18 years of age or older or is a high school graduate or the equivalent.

Lifetime membership dues are $400.00.  We also offer a young alum lifetime membership at the reduced cost of $200.00 to anyone 18-29 years old (or high school graduate or equivalent, if not yet 18 years of age) who was a Girl Scout at any time during her childhood. Check out more information.