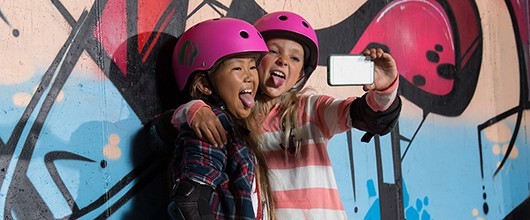 Get Involved
Your new friends can't wait to meet you.
Right now, Girl Scouts are meeting furry friends at their local animal shelters, giggling past lights-out at sleepovers, and learning how their favorite roller coasters work.
Above all else, they're having a blast—because they know bringing the fun is all about being their true selves, trying new things, and cheering each other on.
Get ready to join the crew and bring a bit more happy to your life.
Girl Scouts is a way of life that brings out the best in your girl, even in the most challenging of times. While she's learning about science, technology, engineering, and math (STEM); the outdoors; entrepreneurship; and important life skills, she's also discovering new ways to make your family and community stronger, kinder, and better for everyone. Plus? Girl Scouts is FUN!
Ready to Join?
Girl Scouts of Texas Oklahoma Plains is thrilled to welcome you and your girl! Membership dues are just $25 annually, but financial aid may be available. Whether you have questions about starting a new troop for your girl and her friends, joining an existing troop, or something else, send us a note at customercare@gs-top.org or call us at 800.582.7272. We're here for you!
Help Girl Scouts discover their place in the world.
Ever want to forget everybody else's expectations and just…be you? When you volunteer with Girl Scouts, you'll be creating a community where being your unfiltered, goofiest, most authentic self is the absolute best thing you can be.
Our local volunteers lead with their hearts and spark imaginations. They help Girl Scouts explore unique interests and unlock their potential.
Lifetime Membership
"Once a Girl Scout, always a Girl Scout." Lifetime membership is available to any individual who accepts the principles and beliefs of the Girl Scout Movement, pays the one-time lifetime membership cost, and is 18 years of age or older or is a high school graduate or the equivalent.

Lifetime membership dues are $400.00.  We also offer a young alum lifetime membership at the reduced cost of $200.00 to anyone 18-29 years old (or high school graduate or equivalent, if not yet 18 years of age) who was a Girl Scout at any time during her childhood. Check out more information.