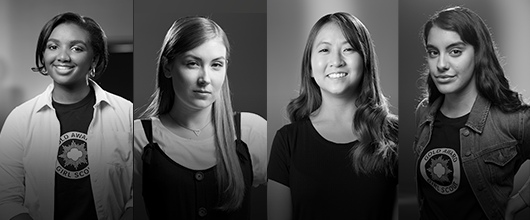 Gold Award Girl Scouts
Issues of the world, meet your match. 
The Girl Scout Gold Award is the highest award a Girl Scout can earn. Once achieved, it shows colleges, employers, and your community that you're out there changing the world.
Join a century of women who have done big things. Learn about scholarships for Gold Award Girl Scouts, the history of the Gold Award, and the benefits of going Gold. 
Submit your application by the first of the month prior to the month you wish to begin your project (ex: to begin a project in January, this form must be submitted by December 1). Deadlines are firm. Do not begin your project until you have received approval from the Gold Award Advisory Board.
In order to participate in GSTOP-sponsored Gold Award ceremonies, your Gold Award Final Report must be submitted into GoGold no later than March 1.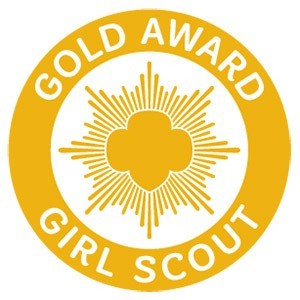 You can pursue your Girl Scout Gold Award if:
 

     You have attended a GSTOP Gold Award training (see dates below).

You're in high school (ninth through twelfth grade, or equivalent) 
 

You're registered as a Girl Scout Senior or Girl Scout Ambassador
 

You have completed two Senior or Ambassador Journeys OR earned the Girl Scout Silver Award and completed a Journey
 
Girl Scout Gold Award Steps


Investigate your issue thoroughly
 

Get help and build your team
 


Present your plan and gather feedback 
 

Dates to remember:
Gold Award Trainings
Register for trainings on GSEvents.
10 a.m.
Gold Award Advisory
Committee Meetings:
6:30 p.m.  

September 17, 2022
October 15, 2022
November 19, 2022
December 17, 2022
January 21, 2023
February 18, 2023
March 18, 2023
April 22, 2023
May 20, 2023
June 17, 2023
July 15, 2023
August 19, 2023
September 16, 2023

Gold Award Training Workshop must be completed before you submit your proposal.

September 14, 2022
October 12, 2022
November 9, 2022
December 14, 2022
January 11, 2023
February 8, 2023
March 8, 2023
April 12, 2023
May 10, 2023
June 14, 2023
July 12, 2023
August 9, 2023
September 13, 2023

Gold Award Project Proposal must be approved prior to beginning your project.